Godstruck Ministries 4 Kids is proud to sponsor and partner with Little Giant Steps. We met the owners, Allen and Jan Bedell, at the 2015 Great Homeschool Convention, Fort Worth, TX. The ministry provides life-changing solutions for accelerating learning abilities in individuals whether they are gifted, typical or challenged.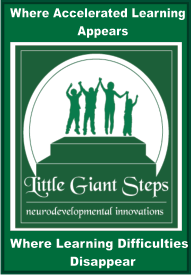 VISION:
Equip and inspire others to deliver brain stimulation allowing individuals the opportunity to reach their fullest God given potential.
MISSION:
Create products and programs to train parents and professionals in the value of implementing the NeuroDevelopmental Approach.
LIFE GOAL:
Leave a legacy of tools, knowledge and application related to The NeuroDevelopmental Approach – benefiting individuals for future generations.