Sing God's Word – Father over All! CD #4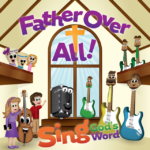 Listen to samples of each song.
Grace to You (Galatians 1:3-5)


When You Pray (Matthew 6:6)


His Beloved Son (Colossians 1:12-15, 19-20)


His Commandments (1 John 3:23-24)


Abide (John 15:7-9)


Every Good and Perfect Gift (James 1:17)

Father of the Fatherless (Psalm 68:5, 19)


For God So Loved the World (John 3:16-17)


A Worthwhile Faith (James 1:27)


Let the Children Come to Me (Luke 18:16)


The Lord's Prayer (Acoustic Remix) (Matthew 6:9b-13)

Buy the CD/MP3s now.