Godstruck Ministries 4 Kids is proud to sponsor and partner with Robyn Langdon, a new Christian author. Robyn is our daughter-in-law and resides with her husband (Kris, our son) and two children (Korilynn and Josiah, our grandchildren) in El Cajon, CA. Robyn has loved writing since her childhood. Her stories and articles have been published in Chicken Soup for the Mother's Soul and Enrichment Magazine. Consuming Fire is her first novel and she hopes it will motivate her readers to examine the original accounts of King Josiah in the Bible. She is a wife, minister, mother, sister, author, and business owner, but, first and foremost, she is a daughter of the King of Kings. When she's not writing, Robyn enjoys hiking, playing games with her family, and helping people use essential oils.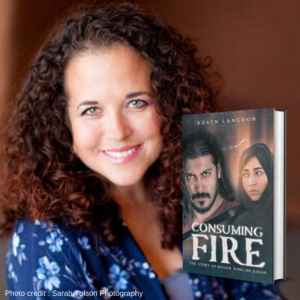 A brief synopsis on Robyn's new book:
Consuming Fire is about Josiah, King of Judah. With the nation in shambles, King Josiah aims to seek God, find help from others, and forge a way to lead his people forward, even as enemies and idols threaten to win the hearts of his subjects. What will he do when restorers of the Temple at Jerusalem unearth an ancient scroll that spells doom for them all? Click here to order print or digital versions, and be sure to leave a review and recommend it to a friend if you enjoy it!